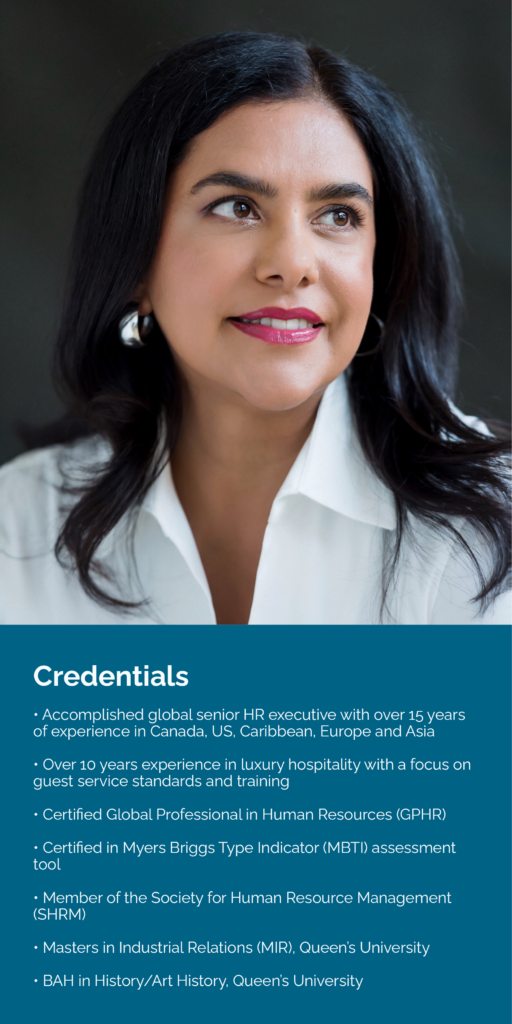 Get to know Amrita
Amrita Bhalla is an accomplished senior HR executive with over 15 years of experience. In the last decade, she has specialized in senior HR roles in the luxury hospitality industry to include: Executive Vice President, Human Resources for Oberoi Hotels and Resorts; and Vice President, Belmond Hotels (formerly known as Orient Express). She was also the Chief People Officer and Executive Vice President for ONYX Hospitality, based in Thailand. Amrita began her career in hospitality with Four Seasons Hotels and Resorts as Director, Recruitment and Development.
She has lived and worked in Canada, Bermuda, United Kingdom, Thailand and India. Her geographic experience also includes the U.S., Middle East and China. Amrita founded A|B Consulting in 2015, bringing a practical and commercial approach to HR in helping organizations become great places to work, improve performance, employee engagement and profitability.
Today's employees aspire to make a meaningful contribution and successful organizations understand how to harness and retain their talent through inspiring branding, a tangible culture, a clear career path, flexible work processes, and competitive reward strategies. Prior to starting A|B Consulting, Amrita was the Vice President, People & Culture with Porter Airlines.
After the completion of her Masters in Industrial Relations (MIR), Amrita started her career with PricewaterhouseCoopers (PwC) HR consulting in Toronto and Bermuda. Consulting gave her a solid background in understanding clients needs and implementing practical solutions. She has adopted the "internal consultant" approach throughout her career successfully equipping her to introduce and manage change in the environments she has worked in.